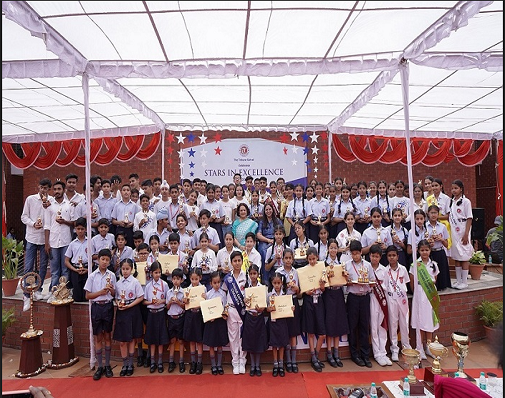 May 12, 2023 - 10:00
The Tribune School
The investiture ceremony signifies the reliance and confidence that the School places in the newly elected council bearers. With this motive, The Tribune School celebrated its Annual Investiture ceremony, "Stars in Excellence," on the School premises. The Chief Guests of the event were Justice S.S. Sodhi, his wife, Mrs. Bonny Sodhi, and Mrs. Chand Nehru, Member of the School Managing Committee. The ceremony was held with lots of zeal and zest. It began with the lighting of the lamp, followed by Vedic Mantras which signifies the removal of darkness.
The elected leaders were honoured by the Chief Guest and School Principal. They were conferred with badges and sashes. The Student Council took a pledge to hold school values—Love, Peace, Good Conduct, Non Violence and Trust—and to be a role model for others. Prizes were distributed to achievers in the fields of academics, sports, yoga, art, music, and IT. The annual report was shared by the students, stating the progress of the School in various fields. The counselling cell report was also shared. The School Choir presented a motivational song. Kushagra showcased his talent in Taekwando, and Pragati presented a Bharatnatyam dance. The yoga department gave a spectacular performance.
Mr. S.S. Sodhi, Chief Guest of the event, congratulated and motivated them to be great leaders and honest in discharging their duties. He reminded them that with position comes responsibility towards themselves and their School. The Principal, Mrs. Rani Poddar, also appreciated and congratulated them and set them on the path of the next milestone. The function concluded with the School song and the National Anthem.
EVENT INFO :
Start Date:

May 12, 2023

Start Time:

10:00

End Date:

May 12, 2023

End Time:

12:00

Number of Participants:

200

Location:

The Tribune School